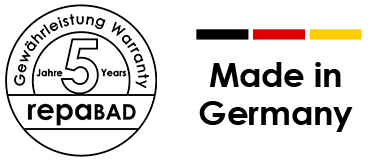 Perfectly designed & brilliant
Anti-slip shower tray for a relaxing experience
Quadrant shower trays in a rounded style
Bologna quadrant-shaped showers fit perfectly into corners and round off the corner shower towards the room. The equilateral shower trays are available in different dimensions. With a depth of only 2.5 cm, they taper off on the rounded side to the tray rim level. From an installation depth of 8 cm, the acrylic shower trays can be used to create barrier-free showers. On request, all models can be finished with the repaGRIP anti-slip coating.


Equipment and fixtures
Transform your shower tray into a modern infrared shower cabin
Suitable products
Upgrade your bathroom with a bathroom stool or other accessories
Product data
Find the right quadrant-shaped shower tray size
*TFR reinforces the undersides of the shower tray rim, providing all-around support and making the shower trays nearly torsion-free. It can also be installed together with MEPA installation frame.
Visit the showroom
Experience our bathroom showroom
Contact us
Ask us about your ground-level shower