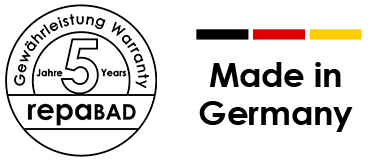 Gentle & soothing
Our whirlpool bath with massaging jet nozzles
Aqua Jet Massage
The standard version comes with 3-8 micro-jet nozzles that target your back muscles or stimulate various zones on the sole of your feet. Four to six jet nozzles massage the thigh and calf regions simultaneously. The jet massage can be intensified by aerating the water.
Jet nozzles
The water jet flowing from the jet nozzles is used for targeted massaging, in order to massage individual zones of the body, specific muscles and joints. This type of massage helps relieve joint pain and relax specific muscles.
Micro-jet nozzles
The fine massage jet from the micro-jet nozzle is used specifically to relieve and prevent muscle tension in the back and foot areas. The gentle water jet carefully massages your muscles. The individual nozzles can be aligned separately, adapting to your personal needs.
Wide range of products
Discover our bathroom equipment and fixtures online
Visit the showroom
Discover our baths with whirlpool features
Contact us
Ask us about whirlpool jet nozzles for baths now