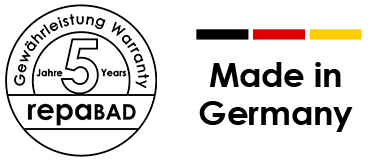 Invigorating & pampering
Premium spa bath with whirlpool function
Relaxing whirlpool bath
A combination of two systems – the air and jet systems – brings together the advantages of both systems. However, the systems can also be used separately.
Air jet nozzle/jet nozzle/micro-jet nozzle (Venturi)
The ergonomically positioned air jet nozzles in the bath base help to release tension, while the water jets from the jet and micro-jet nozzles are used to massage specific areas, individual muscles and joints.
Wide range of products
Discover our variety of bathroom equipment and fixtures
Visit the showroom
Discover our whirlpool corner baths in our showroom
Contact us
Ask us about your bath with a whirlpool function now