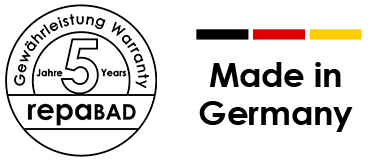 Award-winning & slim
Award-winning steam shower for total pampering
Modern steam shower for the home
Atlanta steam shower is the proud winner of the world-renowned iF design award. Atlanta is a functional, timeless compact home spa. The shower footprint determines the size. A solid surface shower tray or a tileable floor element, a glass partition with a repaCLEAR finish and a recessed ceiling with screen printing form the outer frame. Users can relax on Orlando or Seattle stools, or Detroit folding seat. The slimline Atlanta steam panel is a highlight that impresses with an elegant glass façade and the slimline design. The user-friendly control unit is easy to see and operate. All steam shower technology is concealed behind the steam panel. The steam panel's slimline design creates an impressive feeling of space. The glass façade is available in five colours.






Glass colours steam panel
The glass shower and steam panels are available in the colours Dark Black, Obscure, Snow, Pearl, Coffee and, on request, in all RAL shades.
Equipment and fixtures
Discover our aromatherapy steam shower
Suitable products
Customise your steam shower
Product data
Modern rectangular shower tray in various sizes
| Version | Dimensions | Data sheet |
| --- | --- | --- |
| ATLANTA 100/100 | 100 x 100 x 220 cm | Download |
| ATLANTA 120/100 | 120 x 100 x 220 cm | Download |
| ATLANTA 100/100 | bis 100 x 100 x 220 cm | Download |
| ATLANTA 100/120 | bis 100 x 120 x 220 cm | Download |
| ATLANTA 100/150 | bis 100 x 150 x 220 cm | Download |
| ATLANTA 120/100 | bis 120 x 100 x 220 cm | Download |
| ATLANTA 120/120 | bis 120 x 120 x 220 cm | Download |
| ATLANTA 120/150 | bis 120 x 150 x 220 cm | Download |
| ATLANTA 150/100 | bis 150 x 100 x 220 cm | Download |
| ATLANTA 150/120 | bis 150 x 120 x 220 cm | Download |
| ATLANTA 150/150 | bis 150 x 150 x 220 cm | Download |
SPECIFICATION
Series:
Atlanta
Material:
Solid surface material, Glass
Colour:
Coffee, Dark Black, Obscure, Pearl, Snow, RAL
Care instructions:
Download
Visit the showroom
Experience our bathroom showroom
Contact us
Ask us about your ground-level shower