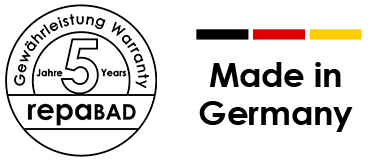 Unique & harmonious
A perfect corner shower tray to your taste
The pentagonal shower cabin for small bathrooms
Pentagonal shower trays are the ideal corner solution, especially in small bathrooms. They can also be used for space-saving combinations with suitable baths. Both Arco shower trays taper off to tray rim level on the shortened sides. They are just 2.5 cm deep. From an installation depth of 8 cm, the acrylic shower trays can be used to create flush-to-floor showers. On request, all models can be finished with the repaGRIP anti-slip coating.


Equipment and fixtures
Discover the outstanding upgrade options for our acrylic shower tray
Suitable products
Other shower accessories for your very special spa experience
Product data
Find the perfect size for your corner shower
*TFR reinforces the undersides of the shower tray rim, providing all-around support and making the shower trays nearly torsion-free. It can also be installed together with MEPA installation frame.
Visit the showroom
Gather new ideas for your bath at our showroom
Contact us
Order your future pentagonal shower tray now