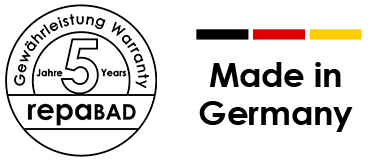 Bespoke & adaptable
Premium steam shower cabin for daily shower use
Bespoke shower with steam shower
Today, individuality is important in bathrooms too, which is why Toronto steam shower has predefined components that can be varied individually on request. Up to a size of 120×160 cm, this steam shower can be fit into the bathroom with centimetre precision. The steam shower impresses with its simplicity, transparency and clear lines. Both the steam panel wall and the full-glass cabin are made of glass, which is also easy to clean. The operating panel, the fitting and, on request, an infrared panel are integrated directly in the steam panel glass. Featuring a solid surface shower tray and a seat, the steam shower is always available for steam showers and your daily showers.






Equipment and fixtures
Discover our relaxing steam shower lighting products
Suitable products
Wide range of accessories for steam showers
Product data
Our steam/shower cabins in flexible sizes
There is no product data for this product.
There are no specifications for this product.
Visit the showroom
Experience our bathroom showroom
Contact us
Ask us about your ground-level shower