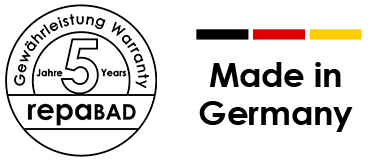 Artistic & aesthetic
Premium, level access shower tray
Level access shower in a simple style
Pentagonal shower trays are the ideal corner solution, especially in small bathrooms. They can also be used for space-saving combinations with suitable baths. Both Arco shower trays taper off to tray rim level on the shortened sides. They are just 2.5 cm deep. From an installation depth of 8 cm, the acrylic shower trays can be used to create flush-to-floor showers. On request, all models can be finished with the repaGRIP anti-slip coating.


Equipment and fixtures
Discover the optional extras for ground-level shower trays
Suitable products
Other shower accessories for added comfort
Product data
Flat shower trays in various sizes
*TFR reinforces the undersides of the shower tray rim, providing all-around support and making the shower trays nearly torsion-free. It can also be installed together with MEPA installation frame.
Visit the showroom
Let yourself be inspired by our bathroom design
Contact us
Now request your shower basin at ground level